OUR MENU
San Shu Gong is all about showcasing the best of Teochew and
Cantonese cuisines. And our signature dishes do just that.
APPETIZER SPECIALTY
前 菜 小 吃 精 选
Teochew Cold Yellow Roe Crab
$13 per 100g
Teochew Cold Yellow Roe Crab Marinated with Shaoxing Wine
$14 per 100g
Chilled Cherry Tomatoes Marinated with Sour Plum
$10
Deep-fried "Ngoh Hiang" Roll
$12
Crispy-fried Beancurd & Prawn Roll
$12
Deep-fried Prawn and Black Fungus Ball
$18
Pan-fried Oyster Omelette
$15
Braised Pig's Intestine
$14
Teochew Style Chilled Prawns Marinated with Shaoxing Wine
$18 / $27 / $36
Braised Goose, Teochew Style
$26 / $70 / $136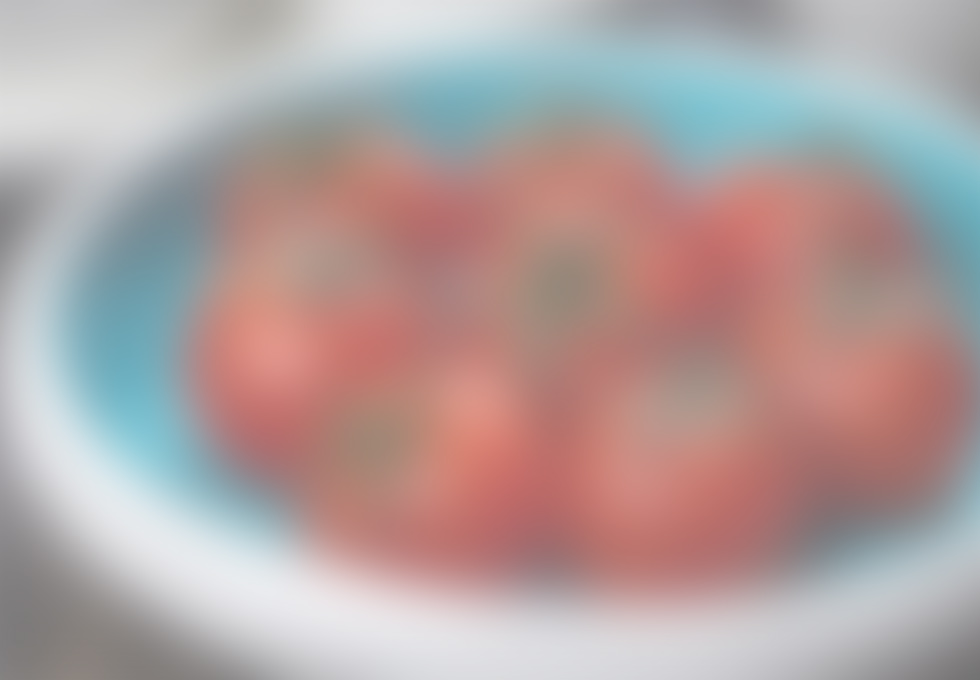 Cherry Tomato Cold Dish
A deceptively simple looking appetizer that starts you off on an amazing journey of unique taste discoveries. European cherry tomatoes marinated for 2 days in home-brewed vinegar and sour plum extract. An almost ice-cold bite of plum-infused tomato fires up your palate for the umami flavours to come.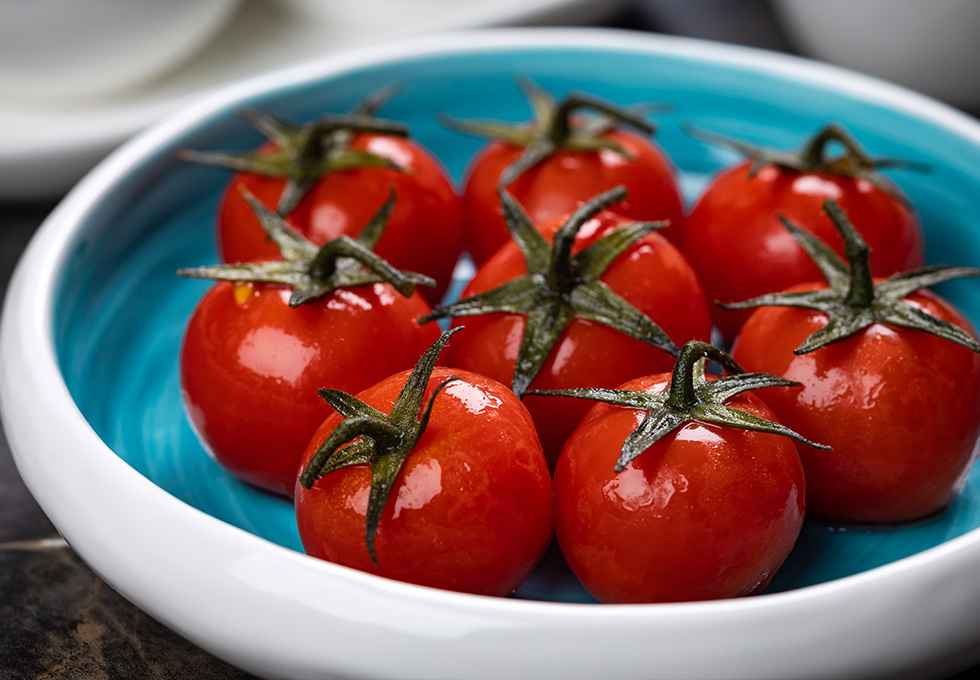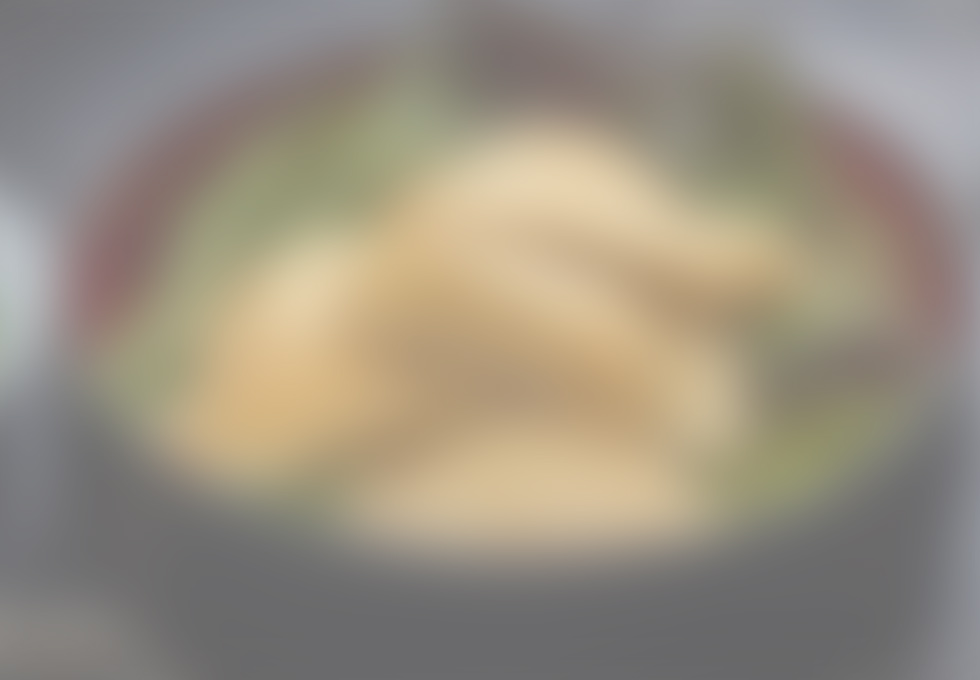 Braised Carabinero Prawn with Mi Sua in
Seafood Broth
One of most celebrated prawns in the world. They are renowned for their jumbo size and striking bright red colour. Their distinct flavour is concentrated in their heads to complement with the mee sua that is specially imported from Taiwan.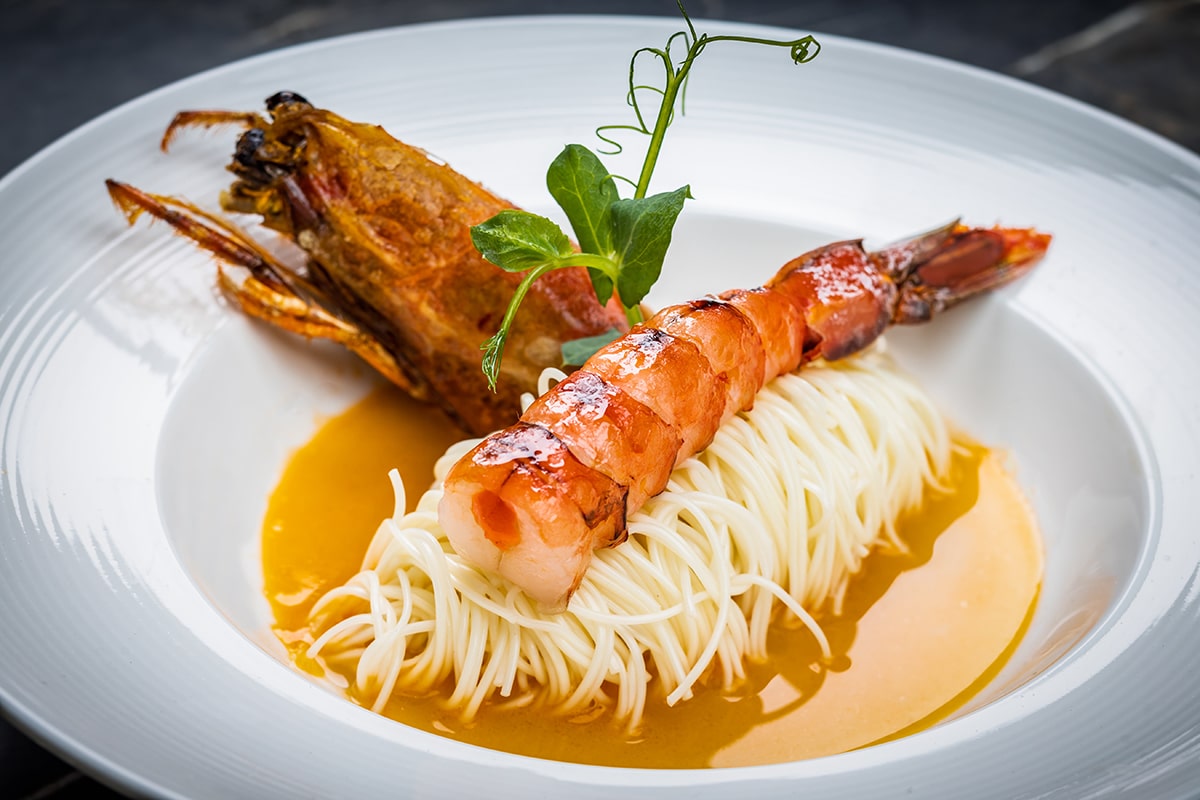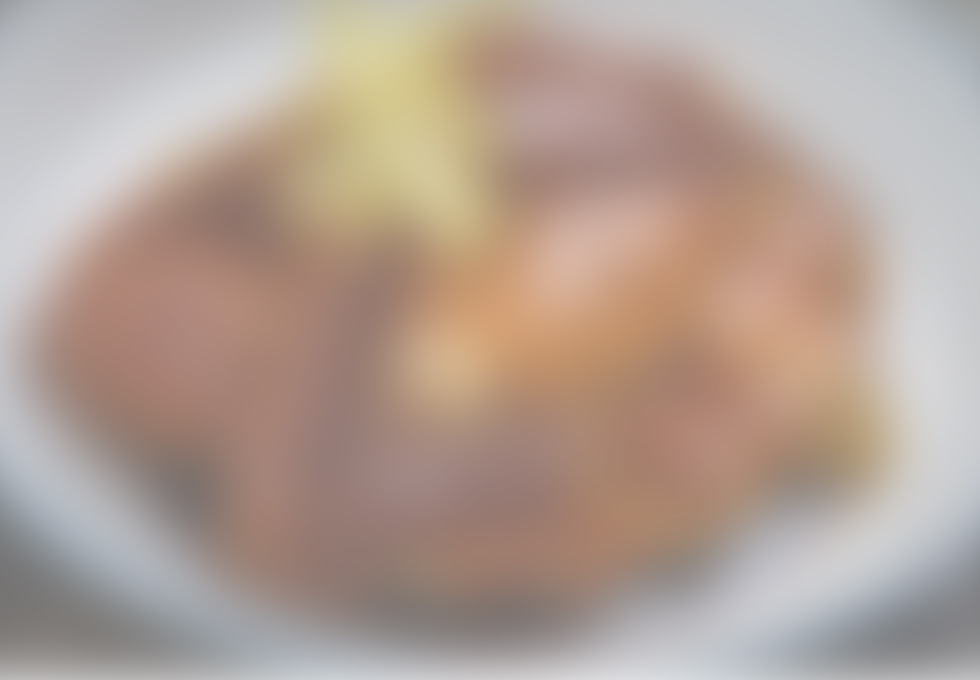 Braised Goose
Done in the traditional Teochew style, tender goose is slowly braised with more than 20 types of herbs to achieve a deeply infused flavour within the meat. Served of course with a tailored chili and vinegar concoction.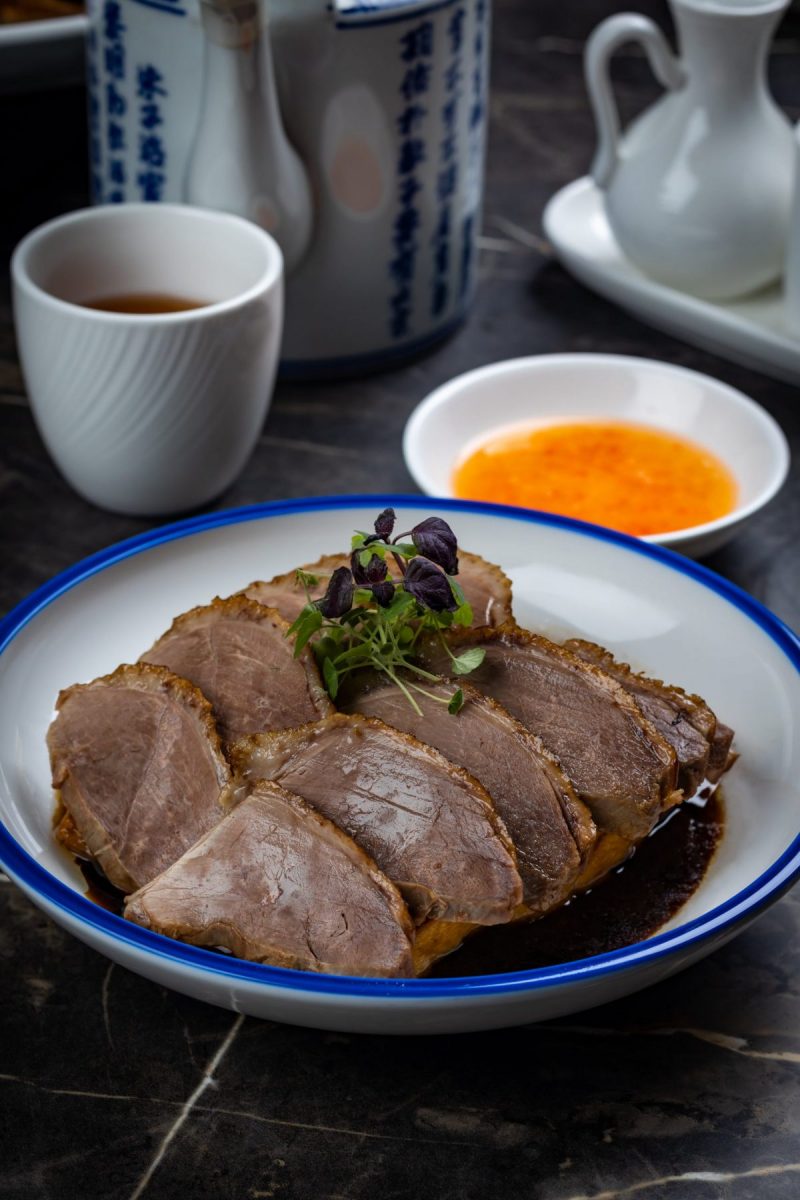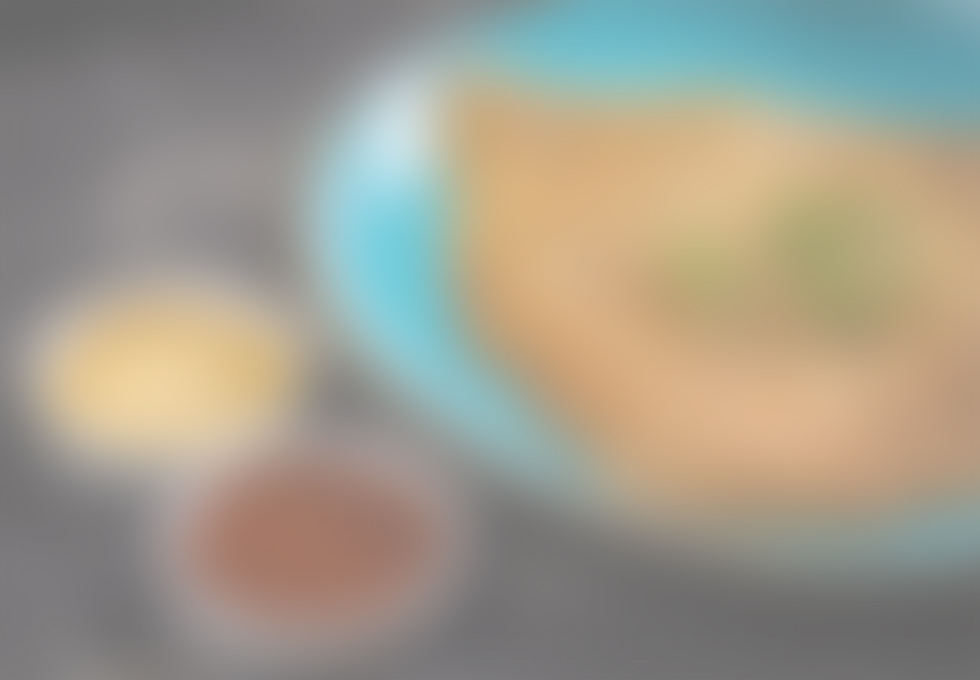 Oyster Omelette
Fried in the traditional Chaoshan style, it is an amazing layering of taste and textures that is entirely removed from the mass market version in Singapore. A masterful frying technique creates a thick crispy crust that keeps the insides creamy with oyster umami. It is then paired with a specially blended chili sauce and vinegar.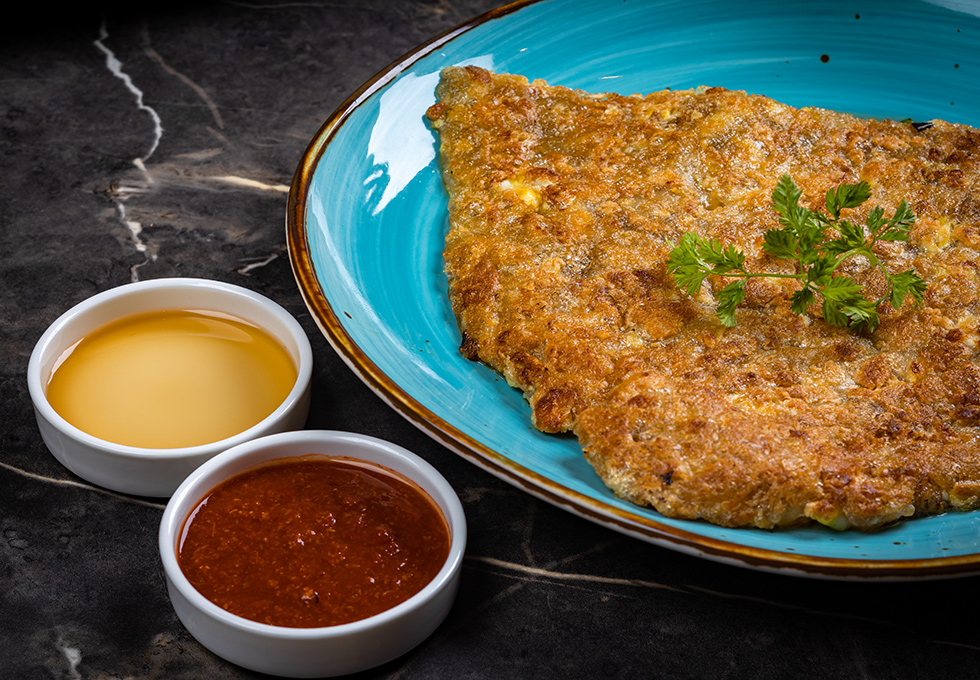 Deep-Fried Sea Cucumber with Superior
Abalone Sauce
Premium Australian Sea Cucumber is deep fried to create a crunchy skin texture. Superior abalone is braised for 16 hours to extract a full flavoured sauce. These two delicious parts are then combined to create an amazing dish that boasts distinct deep fried as well as braised textures and tastes.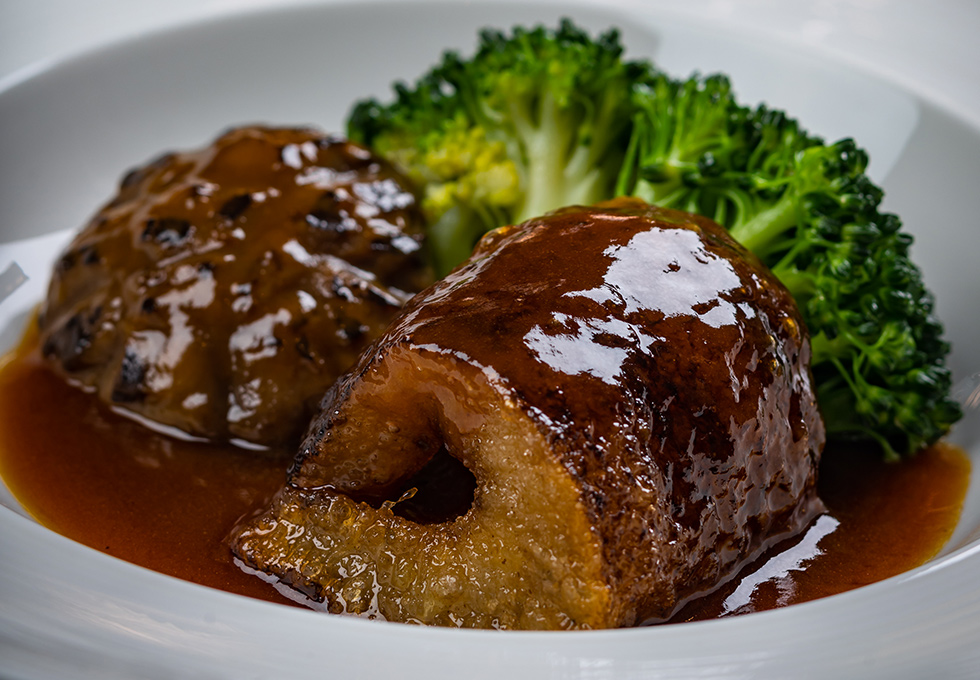 Salted Soft Bones with Giant Mustard
Leaf Soup
A 3-layered soup of vegetable, meat and broth. The pork soft bones are salted overnight and steamed separately. The broth is boiled from deliberately selected old chicken. The vegetable is par-boiled before being added. The result is a rich soup where the 3 main ingredients retain their taste integrity, a uniquely different approach compared to soup recipes that usually combine ingredient flavours.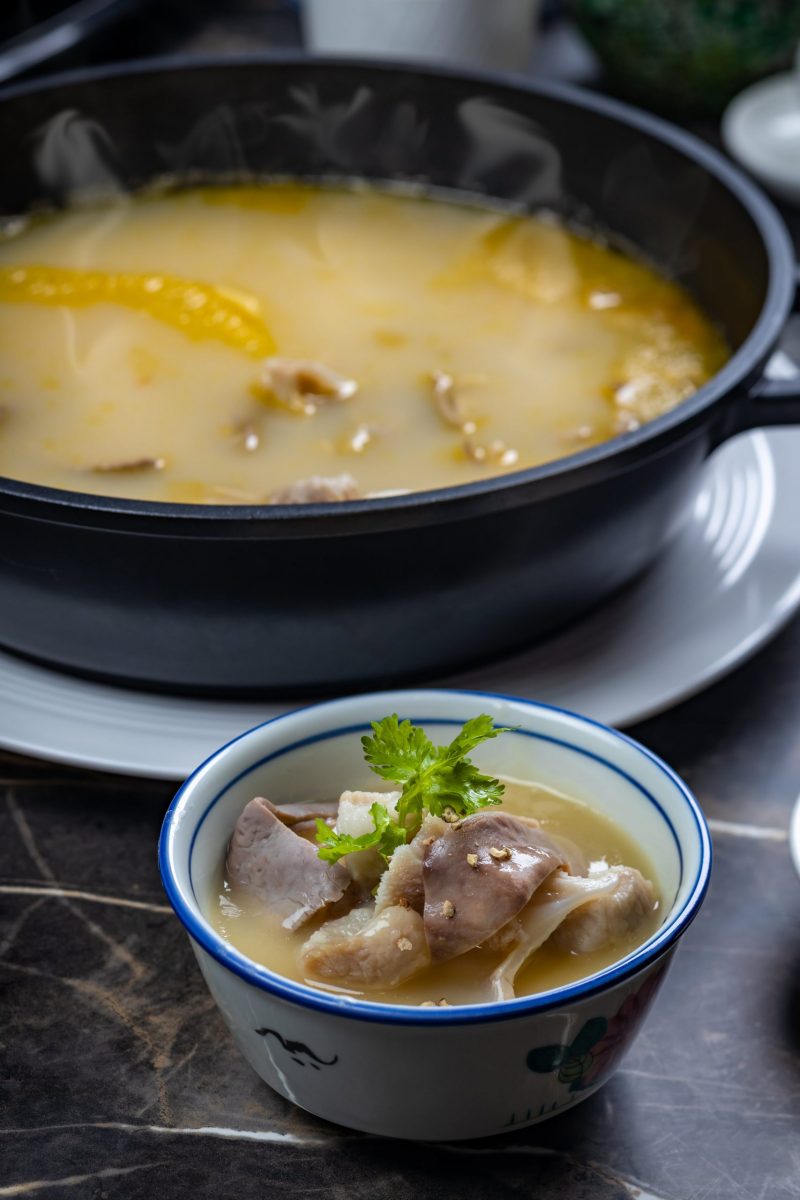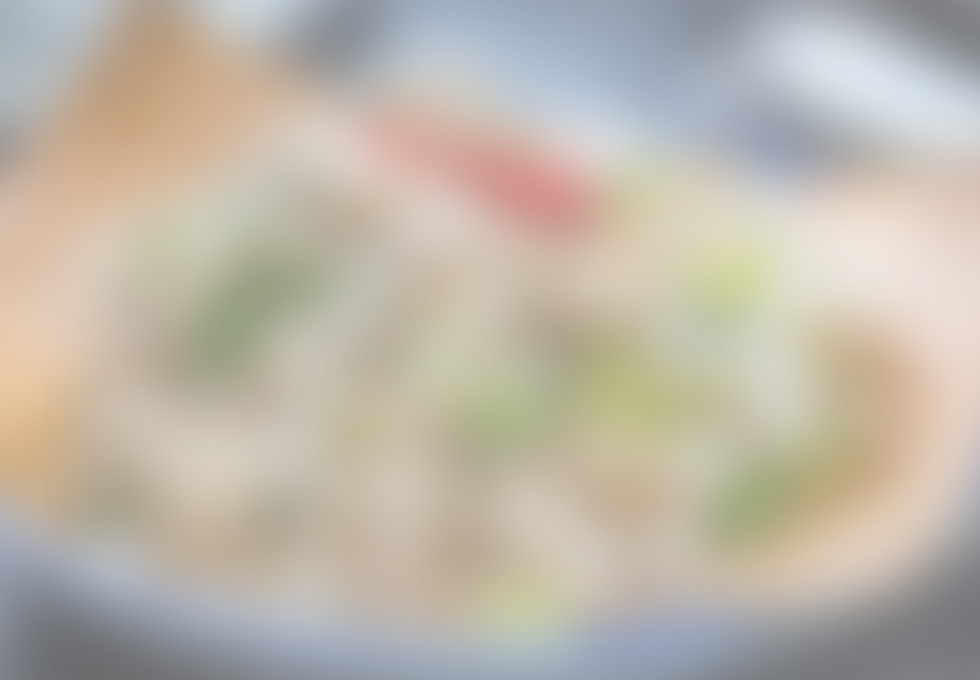 Pan-fried Crispy Yellow Ee-fu Noodle
with Prawn
One of the most traditional takes on the Eu-Fu noodles that is now a rarity in Singapore. Ee-fu noodles cooked in broth to absorb its rich flavour and then fried like a pancake on just one side to a crunchy crisp. Vinegar and sugar is sprinkled on individual slices to each diner's preference for an exciting combination of umami, sour, sweet, chewy and crispy in one bite.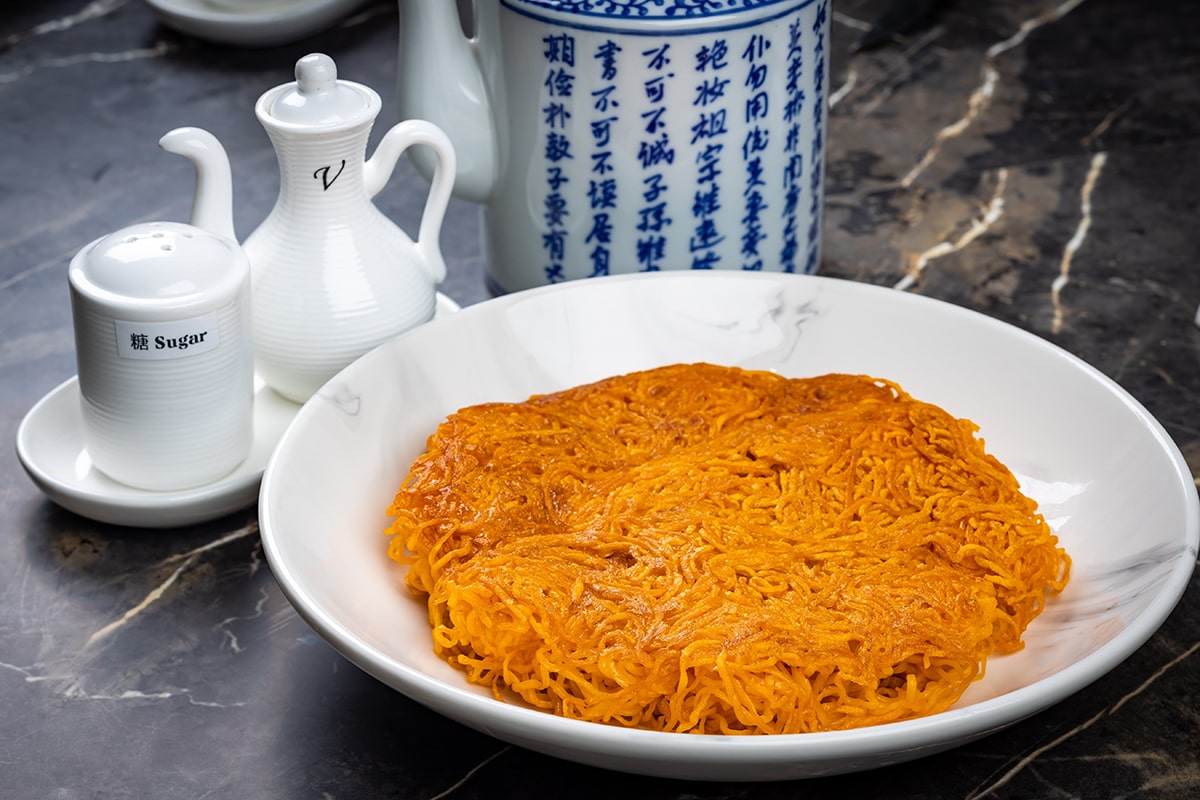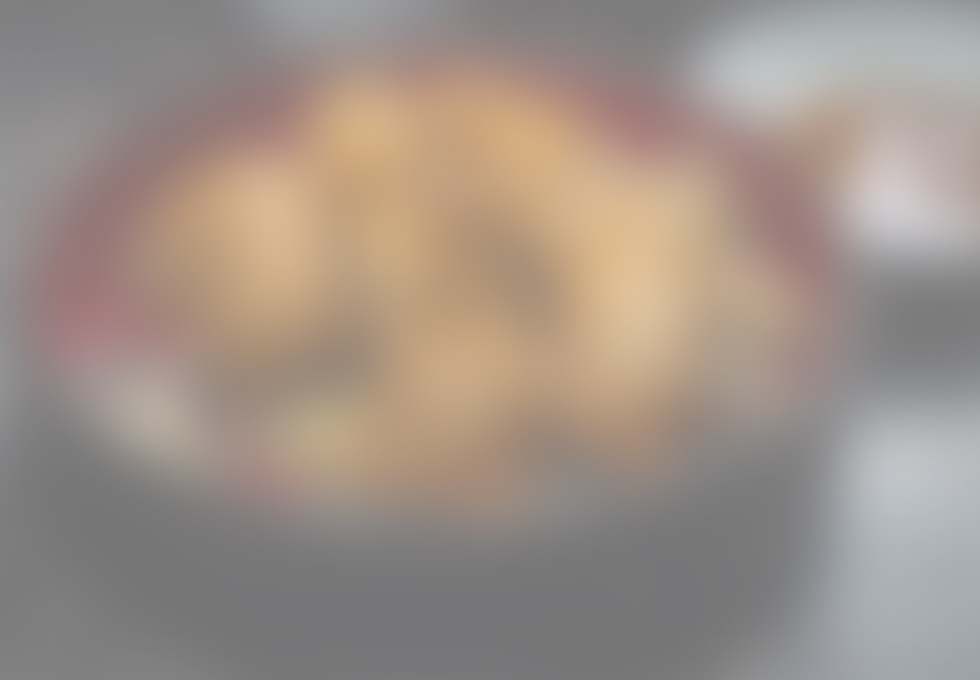 Pan-fried Teochew Kueh with Yam and
Salted Egg Stuffing
Crunchy pistachios coat a chewy glutinous rice skin enveloping a creamy yam paste and runny salted egg yolk filling. A veritable symphony of complementary sweet and savoury flavours take this traditional dessert to a deliciously high endnote for the meal.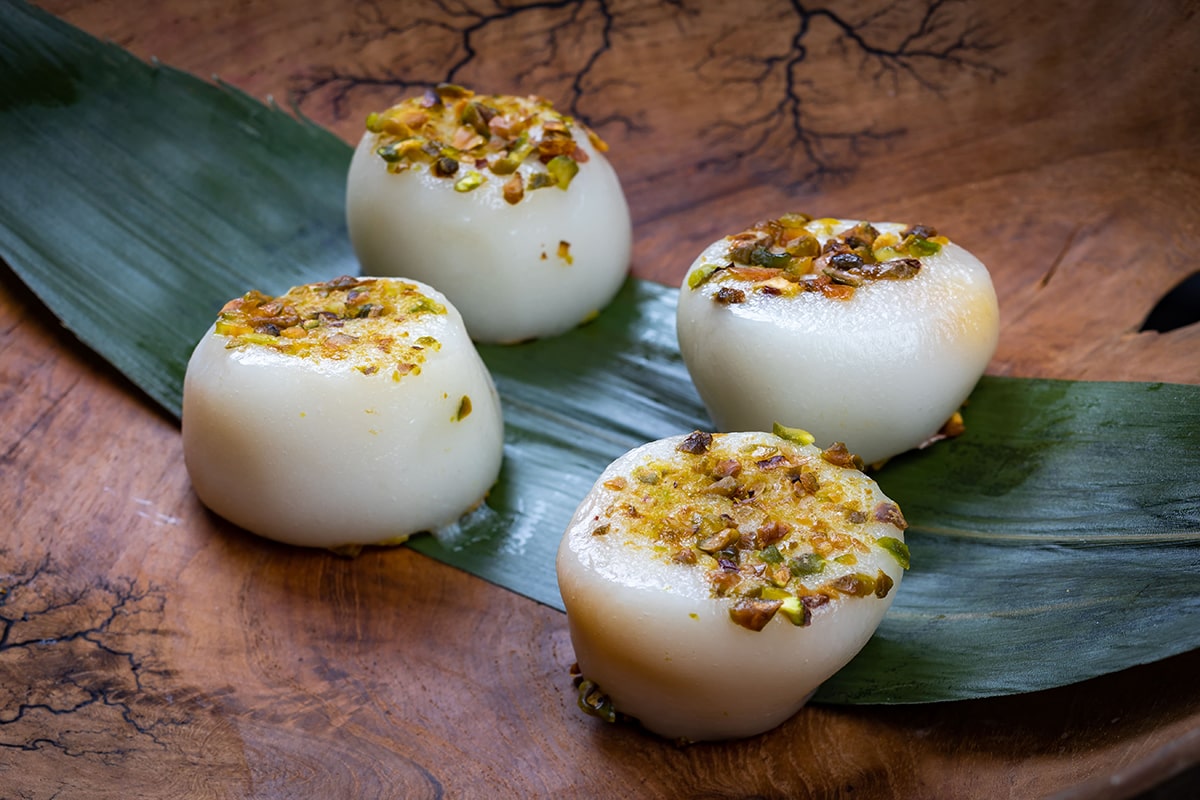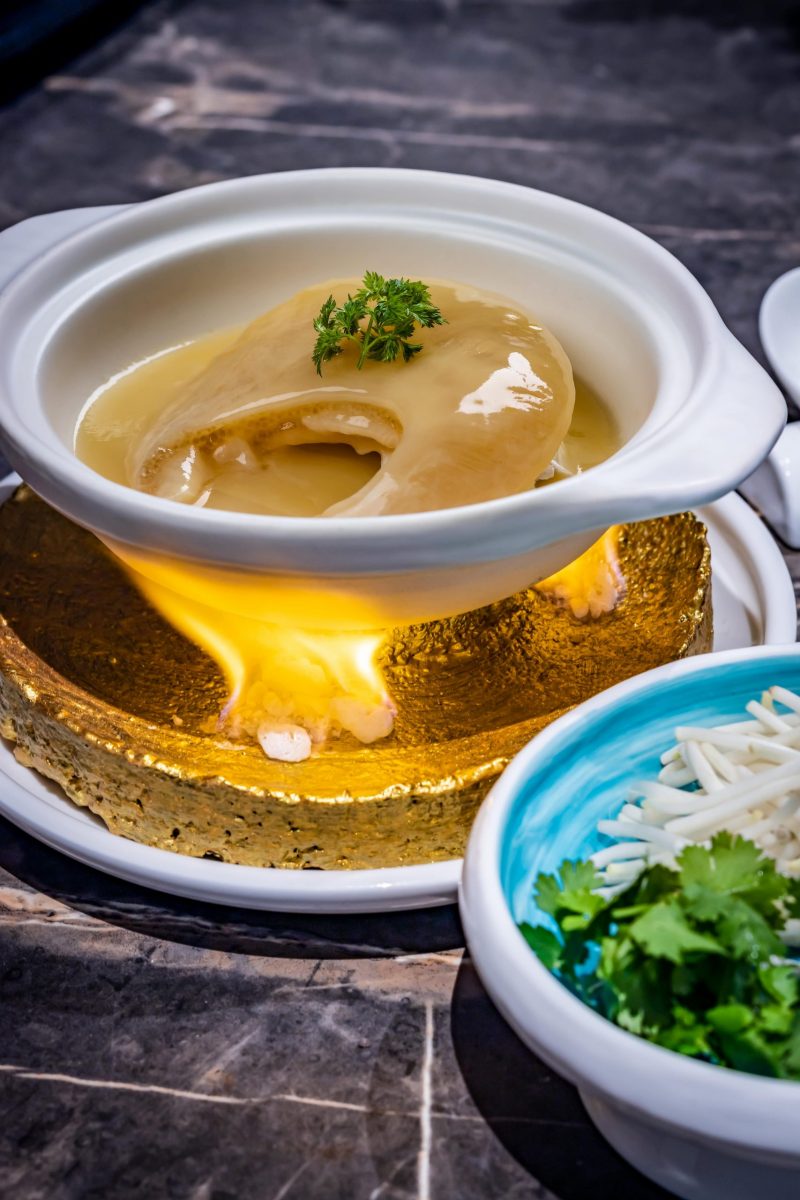 SHARK'S FIN & SOUP
鲍 翅 / 羹 / 汤
Braised Superior Shark's Fin Soup
$45
Braised Crab Meat and Fish Maw Soup
$12
Braised Pig's Stomach & Salted Pork Ribs in Peppery Soup
$48
Braised Whole Chicken Stuffed with Pig's Stomach in Peppery Soup (24 Hours Advance Order)
$138
Double-boiled Whole Chicken Stuffed with Fresh Mushrooms & Tianjin Cabbage Soup (24 Hours Advance Order)
$138
ABALONE & SEA CUCUMBER
鲍 鱼 / 海 参
Braised 4-head South African Abalone in Superior Abalone Sause
$42
Deep-fried Sea Cucumber with Superior Abalone Sauce
$28
Braised Sea Cucumber, Fish Maw and Fresh Mushrooms
$48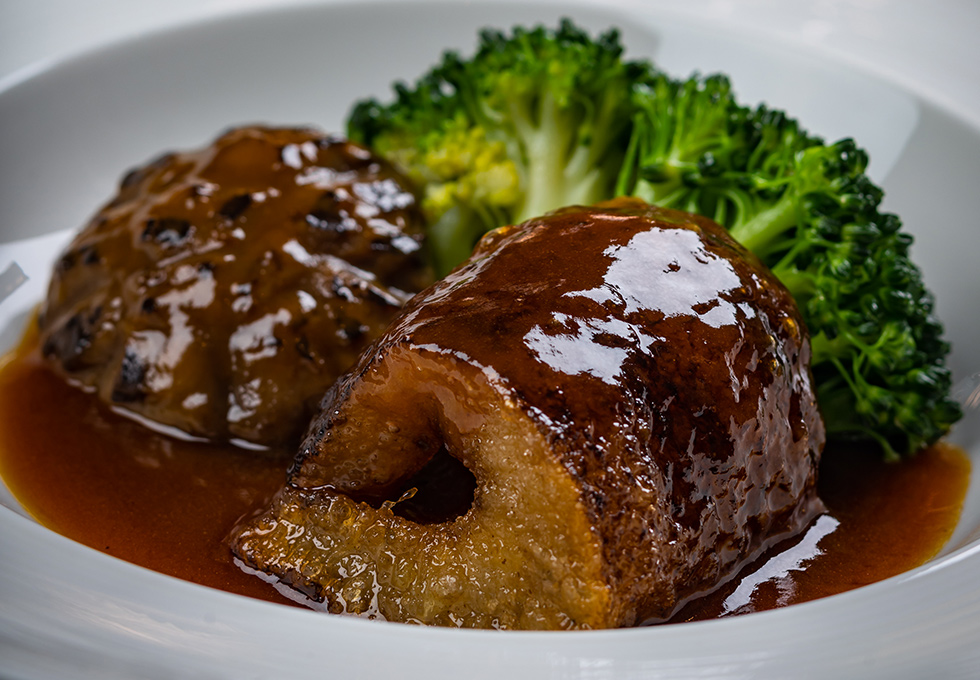 Braised Tianjin Cabbage Roll with Yellow Crab Roe & Meat Stuffing in Spinach Broth
$12 / pax
Deep-fried Deshelled Prawn Coated with Salted Egg
$20 / $30 / $40
Wok-fried Deshelled Prawn with Pepper & Spiced Salt
$20 / $30 / $40
Sauteed Deshelled Prawn with Preserved Radish & Seasonal Vegetables
$20 / $30 / $40
Sautéed Australian Scallop with Preserved Radish & Broccoli
$28 / $42 / $56
Catch of the Day
Seasonal Price / 时 價
B. Steamed with Aged Radish & Minced Meat
C. Braised with Chinese Parsley, Celery & Fermented Beans
D. Steamed with Chopped Chili
E. Steamed with Minced Preserved Radish
F. Deep-fried with Superior Soya Sauce
G. Steamed with Superior Soya Sauce
H. Quick Blanched with Superior Broth
I. Wok-baked with Whole Garlic & Fermented Beans
J. Wok-fried with Pepper & Spiced Salt
K. Wok-fried with Ginger & Spring Onions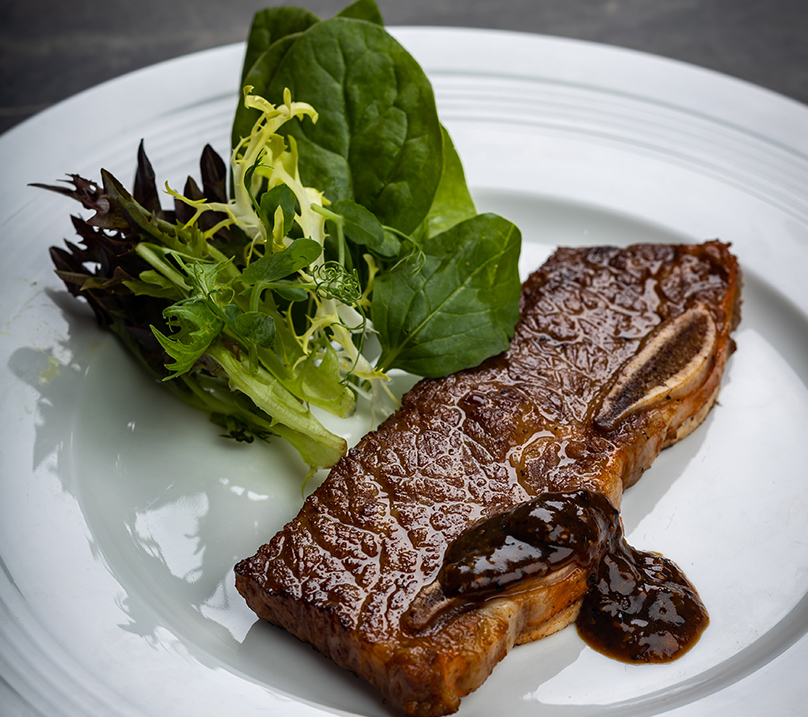 Braised Kurobuta Pork Fillet with White Bitter Gourd & Fermented Black Beans
$22 / $33 / $44
Braised Salted Pork Ribs with Mustard Plants
$28 / $42
Braised "Kampong" Chicken, Seasoned and Marinated with Superior Soy Sauce
$22 / $44
Pan-fried American Short Rib with Black Pepper Sauce
$18
Pan-fried Spanish Kurobuta Pork Fillet
$13
Wok-fried French Beans with Preserved Olive Leaf & Minced Meat
$14 / $21 / $28
Wok-fried Kailan with Dried Sole
$18 / $24 / $36
A. Sauteed with Australian Scallop
$28 / $42 / $56
B. Sauteed with Deshelled Prawn
$20 / $30 / $40
C. Braised with Shiitake Mushrooms
$18 / $27 / $36
D. Wok-fried with Minced Garlic
$14 / $21 / $28
E. Braised with Whole Garlic in Superior Broth
$14 / $21 / $28
Wok-fried "Cai Pu" Kway Teow with XO Sauce
$12 / $18 / $24
Wok-fried Rice with Deshelled Prawn
$12 / $18 / $24
Braised Carabinero Prawn with Mi Sua in Seafood Broth
$12
Pan-fried Crispy Yellow Ee-fu Noodle with Prawn
$28
Chinese Pomfret "Pao Fan" Boiled with Rice in Superior Broth
$108
Fresh Oyster "Pao Fan" Boiled with Rice in Superior Broth
$28
Steamed Yam Paste with Gingko Nuts & Pumpkin
$4.50
Teochew "Tau Suan" with Gingko Nuts & Flour Fritter
$4.50
Deep-fried Red Bean Pancake
$12
Deep-fried Yam Stick Encrusted with Fine Sugar
$18
Pan-fried Teochew Kueh with Yam & Salted Egg Stuffing
$8